SET LIST
All I Ever Wanted Tour
* From Wikipedia
"All I Ever Wanted"
"Impossible"
"That I Would Be Good" (Alanis Morissette cover)/ "Use Somebody (Kings of Leon cover)
"If I Can't Have You"
"Lies" (Black Keys cover)
"Walking After Midnight"
(Patsy Cline Acoustic cover)
"Behind These Hazel Eyes" (Acoustic)
"I Want You"
"Since U Been Gone"

Encore:
"7 Nation Army"
(White Stripes cover)
"Sober"

Next The 2010 World Tour:
Ireland, England, Scotland, Wales, Belgium, Germany, The Netherlands, Switzerland, South Africa, New Zealand, Australia
Kelly Clarkson
All I Ever Wanted Tour
Nov 24th 2009 WAMU Theater
Concert Review by Art Rusche

Kelly Clarkson, the winner of the first season of American Idol gave an excellent performance fresh from the AMA music awards the Sunday before!


The crowd appeared to be half American Idol TV fans and half screaming girls. :)))

It wasn't one of my "Front Stage Baby" positions, which was hard to take after so many up great close up concerts, but I couldn't pass up $70 tickets for $14.99 on the special Wednesday sales at Live Nation!

Kelly belted out hit after hit as only she can do!!


Eight of Clarkson's singles became Top ten hits on the Billboard Hot 100. Her single, "My Life Would Suck Without You", advanced from No. 97 to No. 1 on the Hot 100 in its first week of release, breaking the record for the largest leap to the top position in chart history!

She has a top ten album out right now, "All I Ever Wanted". She has won 2 Grammys.


Kelly isn't ashamed of her weight ....
She said she couldn't breath in her AMA outfit she wore on Sunday. I had to see it again to see what she meant:
http://www.youtube.com/watch?v=6_W0u4FCsOU
I'm surprised she was able to even sing it that dress.

She interacted with the audience a lot and a sang a lot of R&B covers which she said the record companies don't usually let her record but loves singing them live!


Kelly was backed by a tight band with horns, strings, guitars and keys.

The sound was great in the WAMU Theater!

She also had two backup singers.

After the first song she took off her sweater saying she was hot and
that she liked being in Seattle because she loves the rain!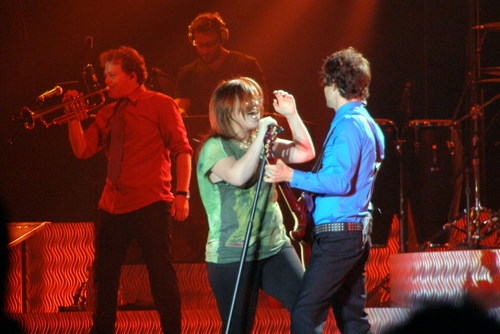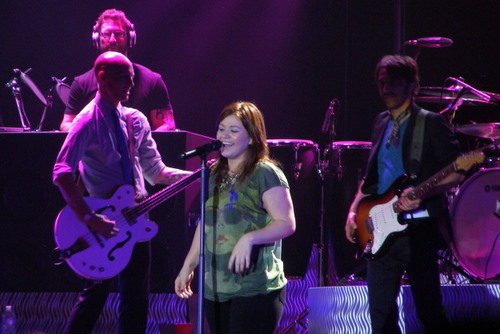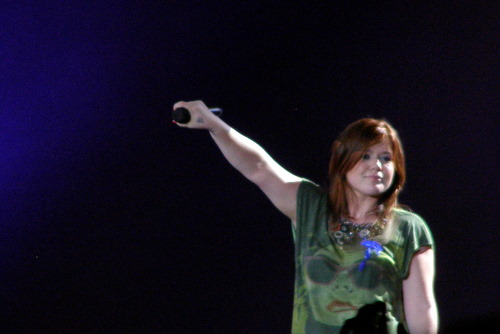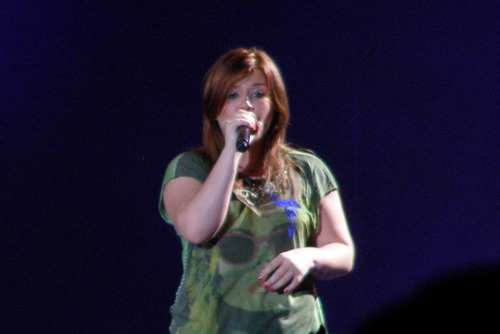 Audience sing-alongs happened all night long!!!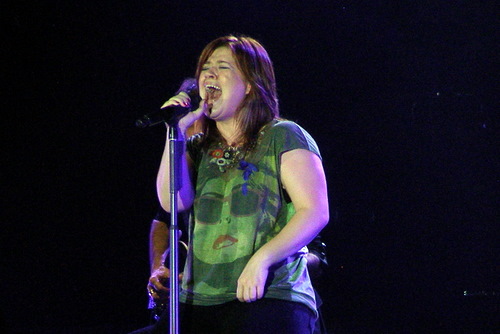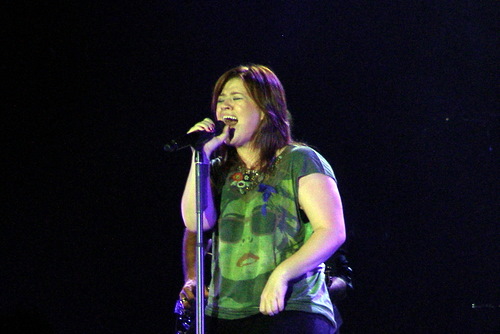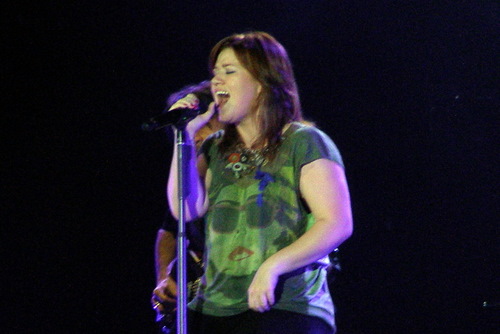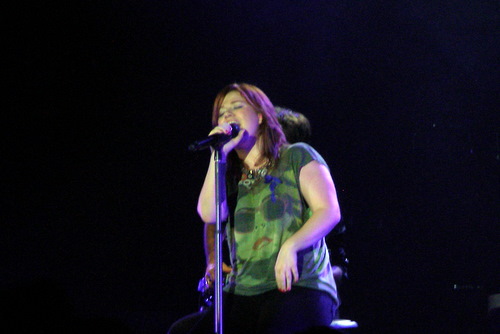 She has GREAT pipes!!!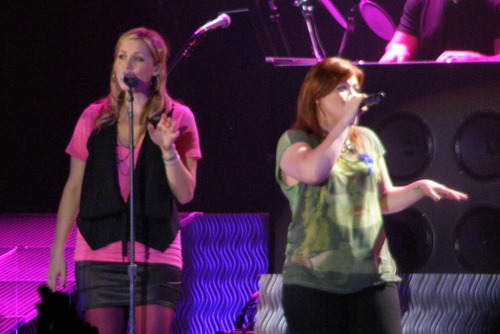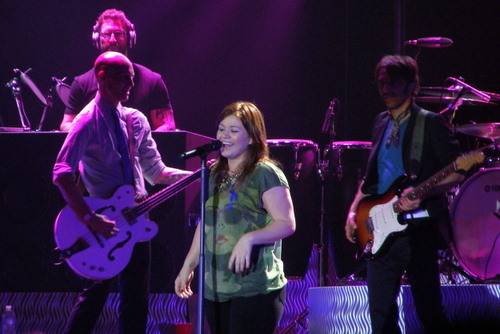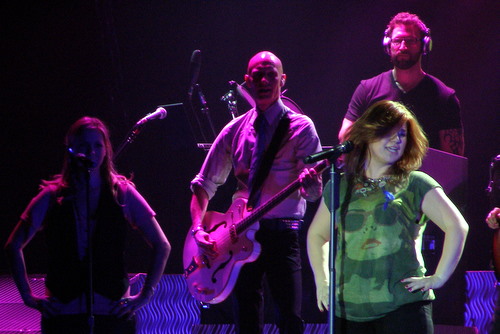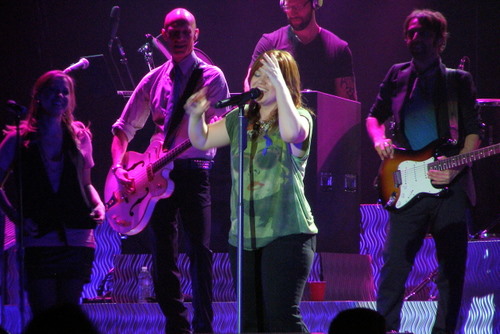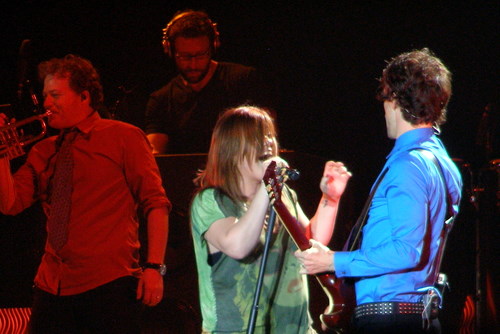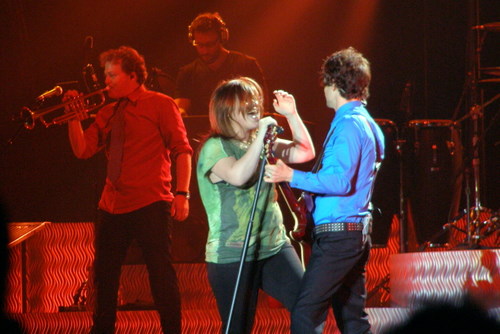 Along with her Pop songs she played a few R&B and country songs that
highlighted her incredible vocal range!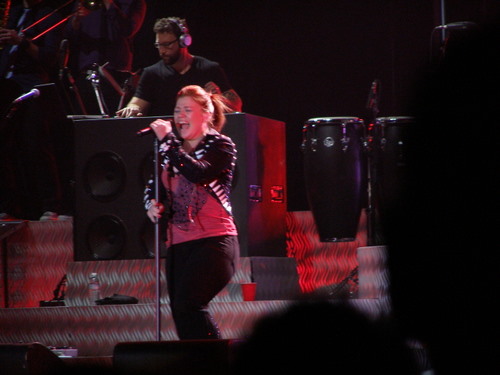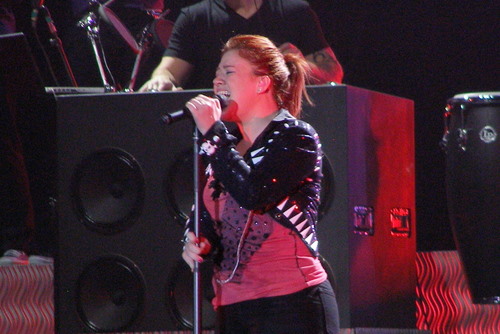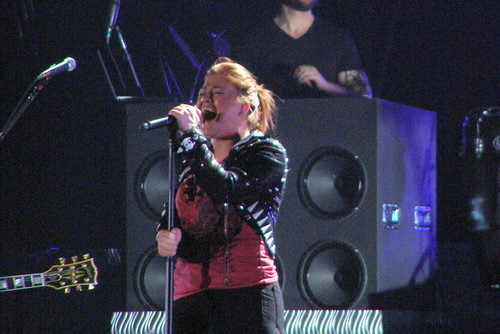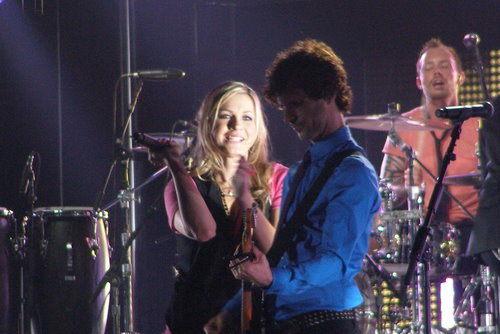 ENCORE!!!!



What a great night to be able to see this girl when she was an awkward contestant on American Idol, to grow up be a world renown recording artist!

Kelly will be on the music scene for a long time....

Look for her to explore many music genres in the future.
She has already done Pop (Thankful), Rock & Pop (Breakaway), Rock (My December), Country duets with Reba McEntire and Martina McBride!
YouTube

Her American Idol Debut Song:
A Moment Like This


Because of You (Live)

New Videos:

I took this Video:

My Life would Suck Without You

Videos taken at concert in Seattle:

DJ Mash Up!


Miss Independent



With Reba:


Does He Love You?



With Martina McBride:





Does He Love You?
Photos © 2009 Arthur D Rusche

This was another in a line of GREAT concert performances this year!!
Rock on!!

---
Back to ArtRusche.com/ArtsArt Back to ArtRusche.com/Music Back to ArtRusche.com