A Concert Review by Art Rusche
WOW!!! How do you put down in words the experience of being in the very smack front center of the stage for three great bands!!
I first heard The Sounds when they opened up for Paramore and No Doubt this past summer at the Whiteriver Amphitheater. We were in the Mosh Pit for that concert (see my pictures and experience of that concert here).
When The Sounds went on their own headline tour, I bought the first 3 tickets sold at the Showbox.
Note GA GA1 Seat 1.
I also had won VIP Guest passes in a contest for a meet and great with the warm up band, Semi Precious Weapons.

Ray & I were the first ones in the Green Room Lounge for the staging. We received a card with #1 entry queue.

3 1/2 hours later we were let in and you can see where Ed and Ray positioned themselves.

Hundreds filled in behind... and we didn't move for the next 4 1/2 hours! We were pushed and prodded but didn't move from right in front of the stage.


We were part of the concert experience with Ray holding up Justin of SPW when he stood on our rail to sing one of their songs and taking Maja off and back on the stage after she surfed the crowd!

The Original Showbox at the Market was the ideal acoustic location for this concert. The Sounds are a Swedish Rock 'n Roll group lead by lead singer Maja Ivarsson, Felix Rodriguez on guitar, Johan Bengtsson on bass guitar, Jesper Anderberg playing keys & guitar and Fredrik Nilsson on drums. They've put out 3 albums over the past 7 years. One of their songs, "Hurt You", was used last year in a Geico motorcycle caveman commercial. I'd classify their music as edgy electronica rock. They've got very strong lyrics combined with catchy tunes. They've also penned for other Dutch and Swedish bands.
After the two warm up bands, Foxy Shazam and Semi Precious Weapons (I will review them later), The Sounds started their set. Our place was still right dead center in front of the stage. The stage was a basic setup with Felix stage right and Johan and Jesper stage left. That left lots of room for Maja to dance the stage! One hit song after another, the crowd sang, danced and adored Maja. The Sounds responded with a dead-on performance!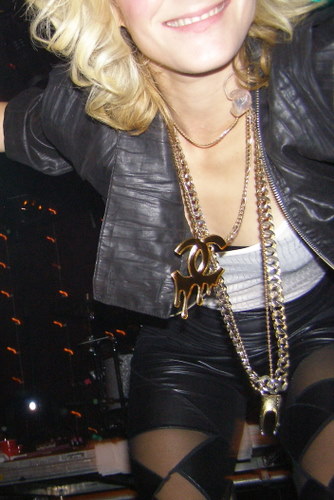 This set was more polished than their opening gig for No Doubt three months ago. We were sooooo close!! Maja would frequently come down to our level and sing to us. I held her hand during several occasions! Today when hearing any of their songs in my car I had to scream at the top of my lungs "HOLY %*&@!!" when imagining her sing those words inches from my face!!! OMG! Okay, I'm star struck...... Before the concert we spotted Maja on several occasions entering and exiting the venue. She respond to me a couple of times.... She's a very cool down to earth interesting gal. I needed to back up to take pictures but the pulsating crowd behind me would have nothing of it!
The ultimate was when Maja crowd surfed, grabbed my hand and went a few feet through the audience and exited back through us onto the stage!!!
The band really looked like they were having a good time performing and the audience loved it too! Fredrik's drum set and Johan's bass kept a steady beat. Jesper was awesome on keys and Felix lead guitar riffs were great!!
What a high energy concert and a very talented band! Good things are happening with this band. Sample some of their songs on the left. I took over 1200 pictures and a few of the best are shown below. ENJOY!!
We made the PI Blog review with a picture of the three of us in Swedish Blue and Yellow The Sounds t-shirts (courtesy of Ray)!