Lady Gaga
Stefani Joanne Angelina Germanotta
Wow (how many times do I say "Wow" after a FSB concert?), but WOW!!
We were so close again!! Very similar to the position we had for the P!NK concert. In front of the subwoofers there was the security guard and then the barrier that included a 1" high berm, enough for two people deep. Hanging on the rail was the first row of girls and behind them was us! Cindra by the end of the the concert was one of the girls hanging on the rail!!!

The crowd was diverse. From screaming little Gaga girls, to their parents, the LGBT community and us! As the concert started, Caryn asked me who was pushing her from behind. She turned around and asked him "Just wondering who was pushing me?" and the guy said "Don't worry, I'm into men!" Okay... That's the line I usually use!!! :))
The concert opened up with a 5-10 minute video warm up with Gaga casting a shadow on a several story screen. From our angle we could look under the screen and see her perform!! Lady Gaga was the first artist in history to achieve 1 Billion video download views!! Her first two CD's Fame and Fame Monster produced SEVEN #1 HITS
Just Dance Poker Face LoveGame Paparazzi Bad Romance Alejandro Telephone
Plus every other song on those albums can stand on their own as hits!
She took us through five segments of her Monster Ball confronting all her monsters along the way. Each segment included dynamic costume changes!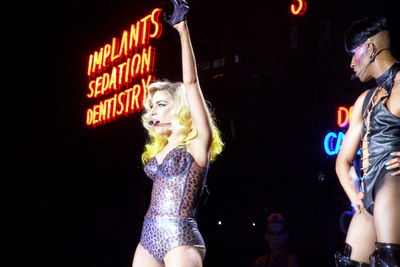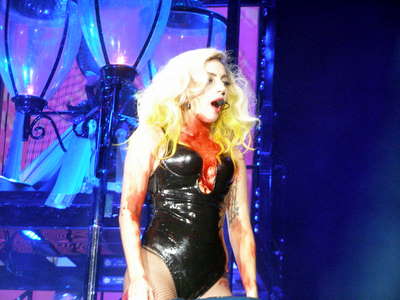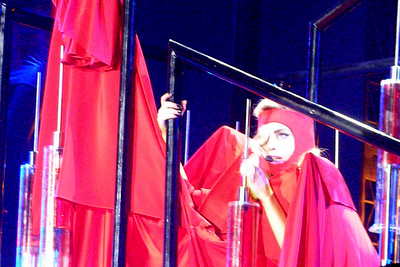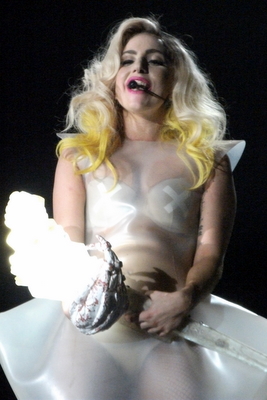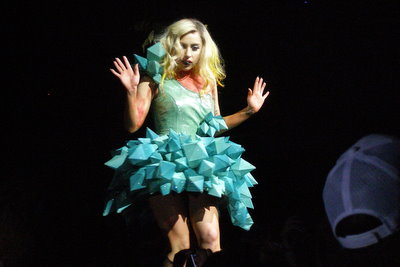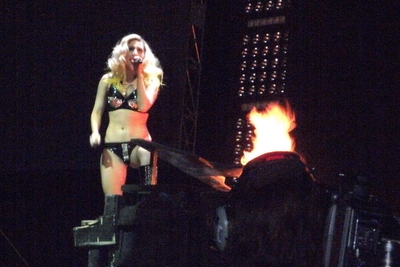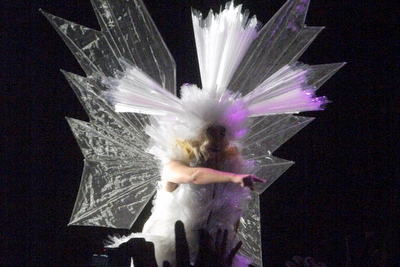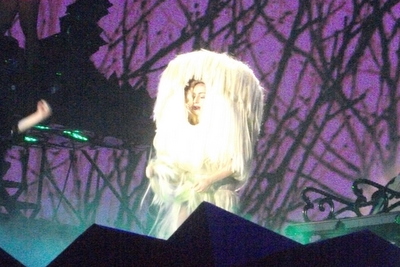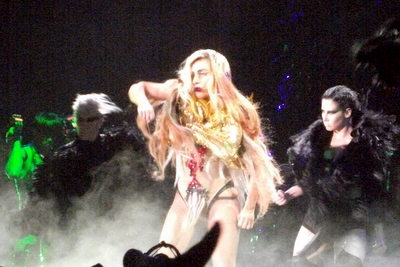 What really sets Gaga apart from the middling masses of lip-synching Britney clones and Idol wannabes is her pure, unadulterated musical talent. This Lady can sing!
"While The Monster Ball has nothing on the great operas or the golden age of musical theatre, Lady Gaga's 'electro-pop opera' is at least twice as entertaining and infinitely fresher than any stage musical written over the last decade."
- Kelly Nestruck The Guardian
The Monster Ball was an incredible eye candy performance with great choreography tied into her fresh music!! This ranks as one of the top all time concerts!!!
"Tonight, I don't want you to leave loving me more," said Lady Gaga. "I want you to leave loving yourself more."
I <3 new music! I <3 being different! I <3 Gaga I am a Little Monster!!
....Art Rusche, FrontStageBaby.com