Day 2, Saturday, was a day full of artists! The weather started warming up into the comfortable 90's We started the day touring the Spectra and then enjoying the AMEX Lounge for Watermelon Sugar and drinks. Then it was artist after artist, the girls took a break back to the camp to refresh, but I had to continue on… We got separated the rest of the evening. I went to a pizza stand near the end of the evening and as I went to pay the gal said, "It's yours" and didn't want my payment, I really didn't know why since everyone else in line was paying!! I saw everyone I wanted to see that day!!
Day 2 – Saturday April 23rd 
Drink Coffee
Pass Security
Explore
Hydrate
Have Fun!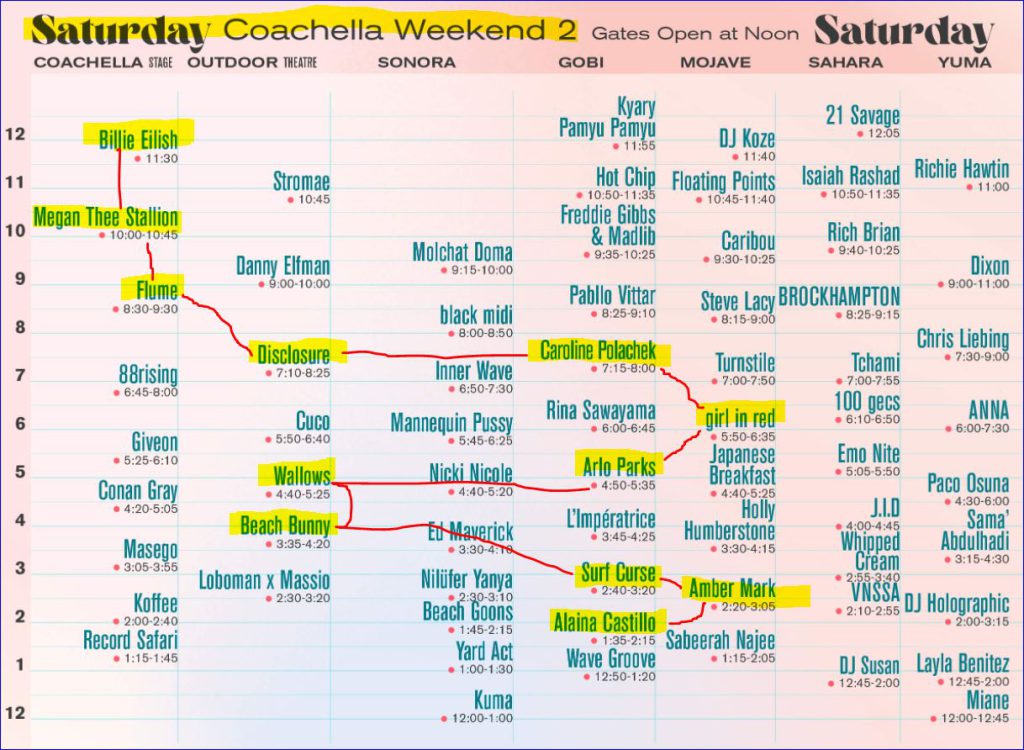 A seven-story spiral walkway that takes visitors six revolutions up all the way to a viewing deck. the structure was one of six art installations commissioned for the 2018 festival. Spectra will remain in place for at least the next three years as the first resident art piece.
Gobi Stage 1:35pm
On our way to the Mojave Stage, we caught a couple fine songs from this young YouTube singer #FrontStageBaby
This is a video of me heading to see Amber Mark into the Mojave Tent and joining the girls.
Mojave Stage 2:30pm
We heard this critically acclaimed American singer, songwriter, and producer #FrontStageBaby. Her sweet voice sounded great, as she belted out each song! I loved her banter with the audience.
Gobi Stage 2:40pm
In May 2021, surf-rock band Surf Curse became popular on TikTok. Their 2013 song, "Freaks" reached number 64 on the UK Singles Chart.
Outdoor Theater 3:35pm
Lili Trifilio and her band from Chicago just put out their first album just two years ago. Now they played a fun afternoon set on the Outdoor Theater.
Outdoor Theater 4:40pm
This LA Band released their debut studio album, Nothing Happens, in 2019, which featured the single "Are You Bored Yet?" featuring Clairo. 
Gobi Stage 4:50 pm
Arlo was nominated for "Best New Artist" at this year's Grammy Awards. I saw her last month as she opened up for Clairo in Seattle.
Mojave Stage 5:50 pm
Norwegian YouTube sensation, Marie Ulven Ringheim aka "girl in red". As openly gay, she has been a popular symbol of queer identification.
She took her normally moody songs into festival rockers!! She gave one of the most energetic performances of the weekend!!
Crowd Surfing during
i wanna be your girlfriend
Gobi Stage 7:15 pm
I saw Caroline last December in Seattle. Her vocal tones are so unique, where she can jump between octaves. Her vocals sort of reminded me of UK singer Dido. Later that night she joined Flume on the Coachella stage singing "Sirens".
So Hot, You're Hurting My Feelings
Outdoor Stage 8:00 pm
The brother DJ duo. Has made many hits, with other artists. After seeing Caroline, I was able to catch the last of Disclosure's set #FrontStageBaby. They ended with their massive hit "Latch" featuring Sam Smith.
Latch featuring Sam Smith
Coachella Stage 8:35 pm
This Australian DJ had the most guest artists on stage as he collaborates with many. Caroline Polachek joined him for his song "Sirens".
Coachella Stage 10:05 pm
I was caught between acts at the main Coachella stage. After Flume ended, I couldn't back out as everyone was going forward to see Megan Thee Stallion. I watched all of raucous bawdy set.
Coachella Stage 11:30 pm 
I had first seen Billie at Coachella 2019 when she was 17. I had also just seen her a month previous at Climate Pledge Arena. Now at 20 Billie once again owned the stage.
In between a couple songs, when the lights went down, Billie slipped and fell right on her face. All we heard was, "I just ate ass"!
Billie and FINNEAS were joined on stage by Paramore lead singer Hayley Williams. They sang her hit, "Misery Business" to great audience elation. There was one point in time that I had seen Paramore more than any other band!
Billie and FINNEAS singing, "I Love You".