I've seen hundreds of artists and concerts throughout the years, most of them from the Front of the Stage!
Here are lists below of them with links to my concert reviews, photos and videos.
Coachella 2020 Art's and Music Festival
This premiere festival was postponed several times with several lineup changes along the way due to COVID-19.
 It finally went off in April of 2022, with Weekend 2 wristbands and Preferred Car Camping which brought us within feet of the entrance!
Joining me this year for Coachella 2022 were my good friends, Caryn Frey, Cindra Wright and Angela Korvas.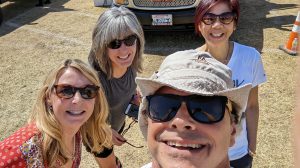 Upcoming and then COVID-19 hit!
Maroon 5, Dua Lipa, Roger Hodgson, Ed Sheeran, Bumbershoot, Lindsey Sterling, Evanescence, Lily Allen, Justin Timberlake, P!NK, Taylor Swift , Szlachetka, St. Vincent, Katy Perry – * Firework

video
Front Stage Baby Concert Listings
The Faces of Front Stage Baby!