This premiere music and arts festival was postponed several times with several lineup changes along the way due to COVID-19.
 It finally went off in April of 2022! We had Weekend 2 wristbands and bought Preferred Parking for Car Camping which brought us within feet of the entrance!
There were an estimated 150,000 people in attendance for the three days. No major incidents were reported!!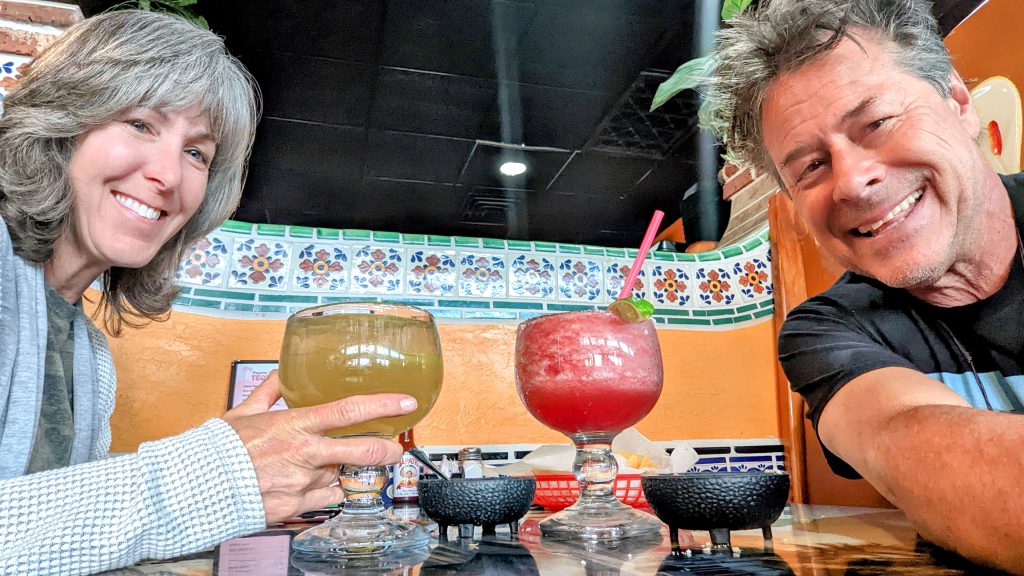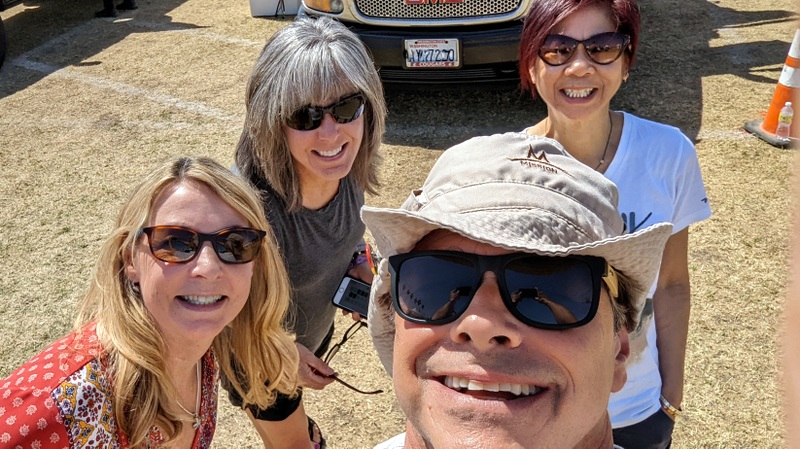 The "Hill" a favorite gathering spot for Day 0 to watch the sunset.
The infamous Coachella night winds hit Thursday night taking down many hastily setup EZ-UP canopies! Ours stayed steady!!
I was holding the rope to hold our tent down and when the neighbors beat hit, I danced a jig. I made almost $3.10!
As usual, the partying continued to almost 2am. I forgot to mention it would be impossible to sleep until then!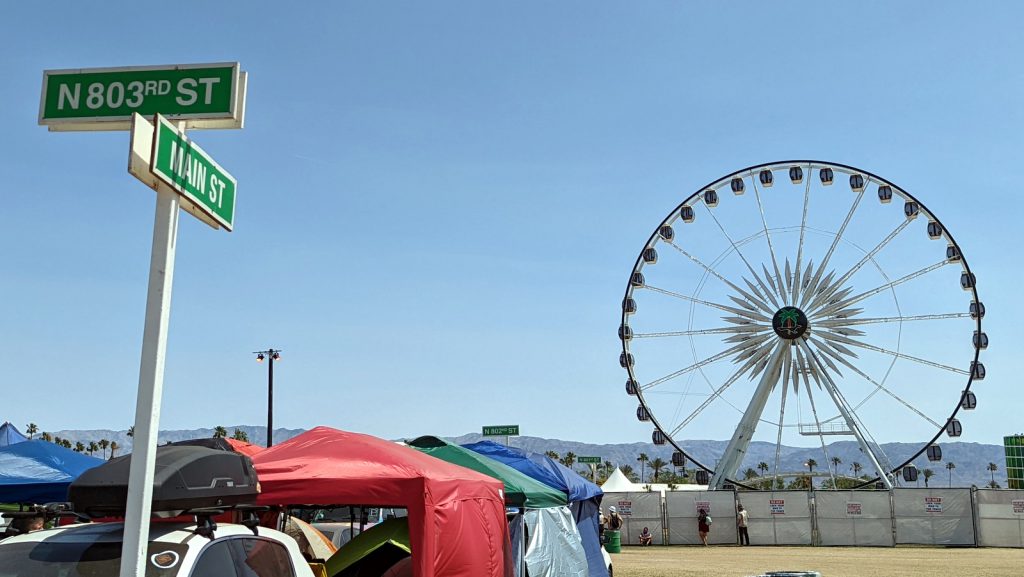 Our camp was just feet from the entrance to the venue!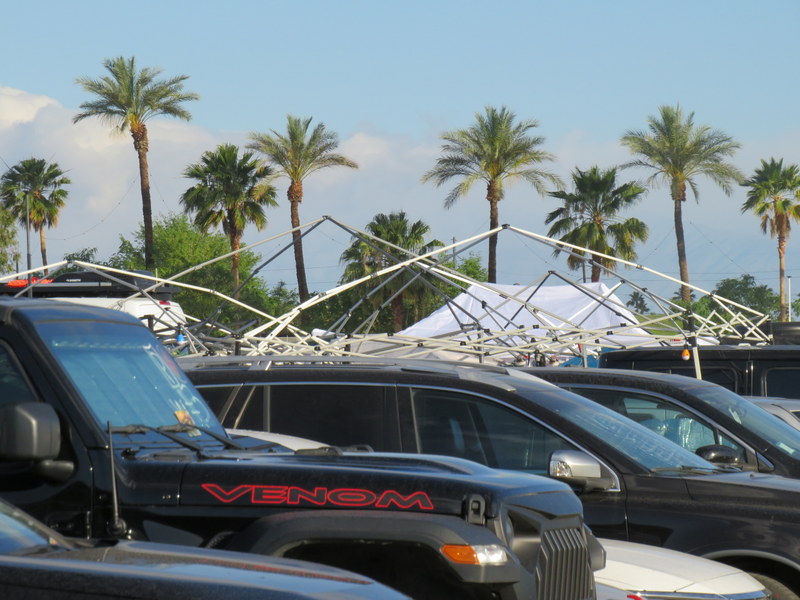 Some flimsy canopies lost their tops during the winds Thursday night!! 
Day 1 – Friday
Drink Coffee
Pass Security
Get a lay of the grounds
Find the Flush Toilets
Find the Water Refill Stations
Find all the good places to eat.
Go to the Indio Marketplace.
Find Meeting Places
Have Fun!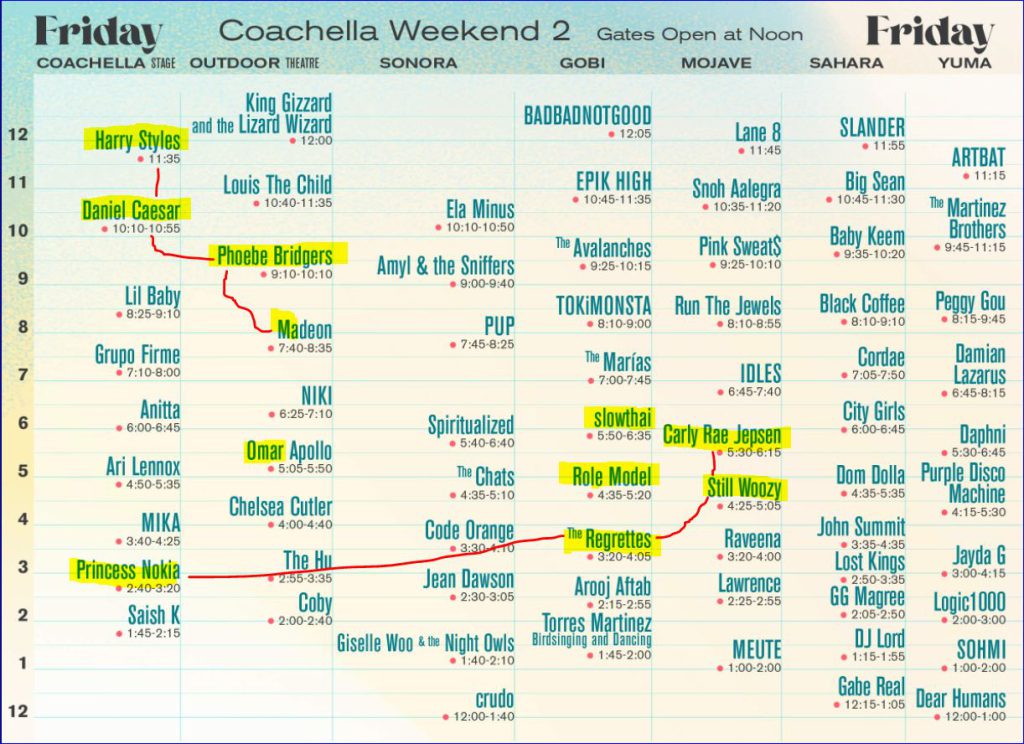 The Calm before the storm...
Princess Nokia - Coachella Stage 2:35pm
Princess Nokia was the first act we saw at the main Coachella Stage. It was an early afternoon performance and looked a bit nervous. We caught a couple of her songs then continued roaming.
The Regrettes - Gobi Stage 3:30pm
We stumbled upon The Regrettes at the Gobi Tent! This band put on a great energetic set! The cover of Avril Lavine's 'Girlfriend' was super fun!!
Still Woozy - Mojave Stage 4:25pm
Sven Eric Gamsky is from Oakland and began recording his own music at the age of 13.  In his live shows he brings on Legwurk, an energetic transfeminine who's bass and stage presence is contagious throughout the crowd. Still Woozy's style is described as "psychedelic bedroom-pop". They put on a fun set! When Woozy ended, we scooped in for #FrontStageBaby for Carly Rae Jepsen!!
Carly Rae Jepsen - Mojave Stage 5:30pm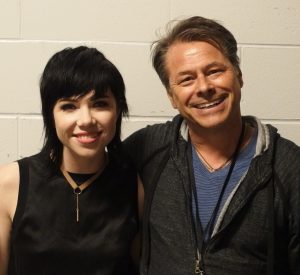 I have been a fan of Canadian, Carly Rae Jepsen from the very early years with Owl City. I have been to every concert in Seattle and one in Vancouver BC. I even had a Meet and Greet with her! 
You can imagine my excitement seeing her at Coachella!! On top of it all we were near the very front of the Mojave Stage. Carly gave one of her best performances ever, keeping the audience jumping and singing back every word! I was getting extra dehydrated by shedding so many tears of excitement every time she came off the stage toward me and I was able to take some incredible videos!!!
A+ Performance and as usual, the continuously worst dressed singer! lol 
We took the time in between bands to run back to our camp to refresh for the evening ahead and grab an evening wrap. After a trip to the water refill station and bathroom breaks, we headed toward The Indio Marketplace to grab evening dinner.
Phoebe Bridgers - Outdoor Theater
Phoebe has had a lot of exposure of late, but her slow moody songs were questioned for a performance at a festival. 
Question answered. Yes, she had a couple rocking songs, but her dimly lit stage and some of her songs weren't festival worthy.
Daniel Caesar - Coachella Stage
Daniel Caesar came on just before Harry Styles on a huge stage that dwarfed him. The audience was just dead. He'd yell out, "Come on you know the words" and it was met with silence. On Weekend 1 he brought out Justin Bieber for his "Peaches" song. But only Omar Apollo, who played earlier, joined him this night. He sure lulled the crowd for Harry's spectacular entrance!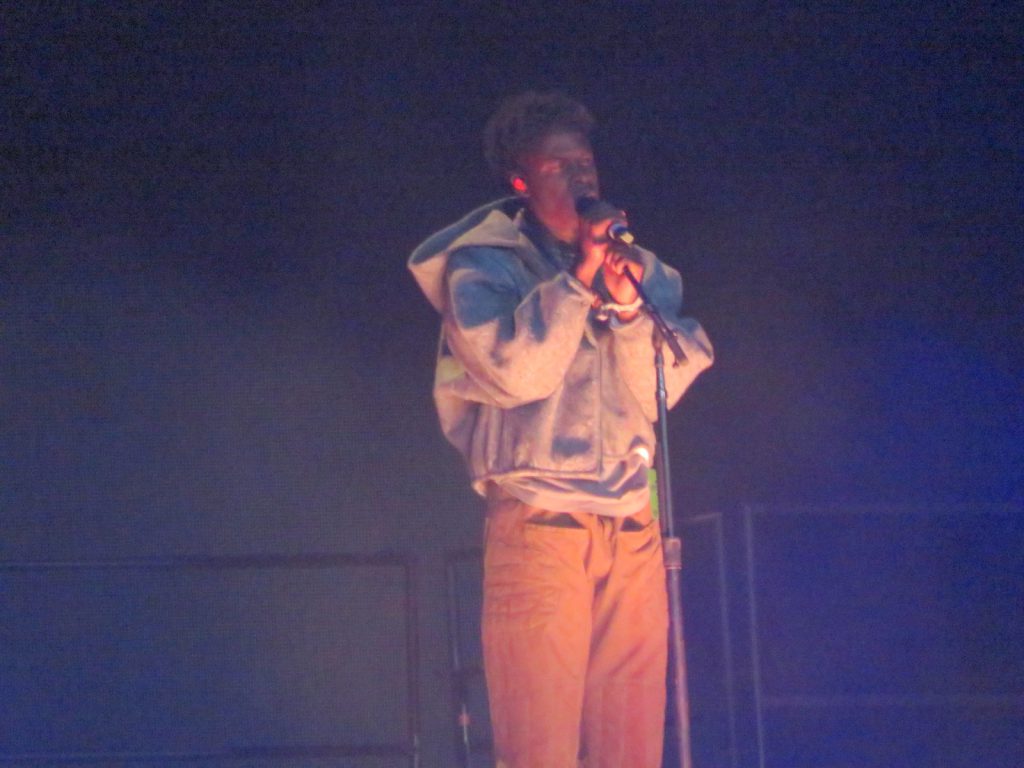 Harry Styles - Coachella Stage
Ending Friday night's performance at the main Coachella Stage was the incredible Harry Styles.  I loved the energy of his songs and his banter with the audience!! I had seen Harry previously when he was with One Direction in 2015, before that band's breakup. Now 28, he took command of the audience, and you could tell he was humbled at the chance of playing Coachella! What a great end to DAY ONE!!
Sign of the Times
Finale Day1

Lizzo joins Harry Styles to sing "I Will Survive" and One Direction's "What Makes You Beautiful"
Other YouTube video of his full performance: